Sojourner Truth (1797-1883)

Given the name Isabella at birth, Sojourner Truth was born in the year 1797, in Hurley, New York. She was enslaved for approximately twenty-eight years of her life. As "property" of several slave owners, when she was ten-years old, Isabella was sold for $100 and some sheep. Dutch was her first language, and it was said that she spoke with a Dutch accent for the reminder of her life. Although she was unable to read, Truth knew parts of the Bible by heart.

As an abolitionist and traveling preacher, Isabella understood the importance of fighting for freedom. After her conversion to Christianity, she took the name Sojourner Truth: "Sojourner
"If the first woman God ever made was strong enough to turn the world upside down all alone, these women together ought to be able to turn it back and get it right-side up again."
It was here, too, that Truth gave her most famous speech, entitled, "Ain't I a Woman." This speech sternly chastises those who feel women and blacks are inferior. The speech, like her preaching, is eloquent and passionate.
Sojourner Truth has the distinction of being the first African American woman to win a lawsuit in the United States; the first was when she fought for her son's freedom after he had been illegally sold. Later, when she was accused by a newspaper of being a "witch" who poisoned a leader in a religious group that she had been a part of, she sued the newspaper for slander and won a $125 judgement. Truth died at the age of 84, with several thousand mourners in attendance. In December of 1883, just after her death, The New York Globe published an obituary which read in part: "Sojourner Truth stands preeminently as the only colored woman who gained a national reputation on the lecture platform in the days before the [Civil] War."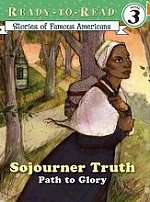 Sojourner Truth: Path to Glory
Grade 3-5–The life of Isabella Baumfree, the woman who became Sojourner Truth, is told with dignity and respect, accompanied by Denos's color illustrations. As a former slave turned traveling preacher, Truth was an advocate for the rights of blacks and women. The author gives an overview of slavery, including the fact that it was legal in the North as well as the South.
Kindle Available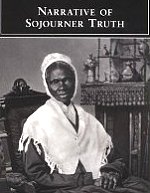 Narrative of Sojourner Truth
A symbol of the strength of African-American women, and a champion of the rights of all women, Sojourner Truth was an illiterate former slave in New York State who transformed herself into a vastly powerful orator. Dictating to a neighbor, she began her celebrated life story, in which she chronicles her youth
The day after the police announce that future pickets would be given limit of 6 mos. in prison,
Alice Paul led picket line with banner reading "The time has come to conquer or submit for there is but one choice - we have made it."
She is followed by Mrs. Lawrence Lewis [Dora Lewis]. This group received 6 mos. in prison.
click to enlarge photo

Left to right: Adelaide Johnston, sculptor, Mrs. Lawrence [Dora] Lewis, Phila., Jane Addams. At time statue was placed in capitol.

Kindle Available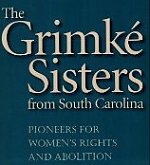 The Grimke Sisters from South Carolina: Pioneers for Women's Rights and Abolition
A landmark work of women's history originally published in 1967, Gerda Lerner's best-selling biography of Sarah and Angelina Grimke explores the lives and ideas of the only southern women to become antislavery agents in the North and pioneers for women's rights. This revised and expanded edition includes two new primary documents and an additional essay by Lerner. In a revised introduction Lerner reinterprets her own work nearly forty years later and gives new recognition to the major significance of Sarah Grimke's feminist writings
Kindle Available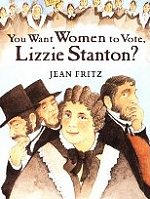 You Want Women to Vote, Lizzie Stanton?
Grade 3-6. Fritz applies her gift for creating engaging, thorough historical literature to a larger-than-life historical figure. Stanton was a radical among radicals, and this objective depiction of her life and times, as well as her work for women's rights, makes readers feel invested in her struggle. An appealing, full-page black-and-white drawing illustrates each chapter. For students who need a biography, this title should fly off the shelves with a minimum of booktalking. And it is so lively that it is equally suitable for leisure reading.?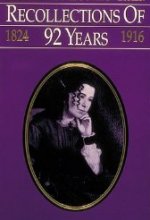 Recollections of 92 Years, 1824-1916
When the indomitable Meriwether was banned from her home by Union soldiers because her husband was a Confederate officer, she spent the next two years bartering for food and shelter for herself and her three young sons. After the war, Meriwether embarked on a decades-long career as an author and advocate for the equality of women, keeping up the crusade until her death in 1916--the year congressional support for women's suffrage emerged.
Sources:
U.S. Library of Congress


More To Explore