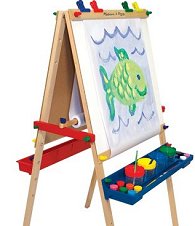 Melissa and Doug Deluxe Standing Easel
Generously sized chalk board and dry erase boards are perfect for projects large and small. Easel folds ups easily for convenient storage and features a colorful paint tray with cup holders. Has an easy loading paper roll holder and an extra large tray for holding erasers, chalk and clips. Paper cutting edge at top of easel means clean paper cuts for your artist's work! 4 large clips included.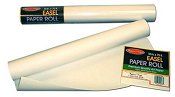 Melissa & Doug Deluxe Easel Paper
Great value
Easy loading
Each roll is 25 yds long
Recommended Age Rating is 3 Years and up

Value-priced, easy-loading replacement paper roll for the Deluxe Standing Easel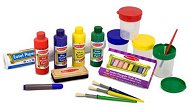 Melissa & Doug Deluxe Easel Companion Set
There's 25 pieces in all, including: four bottles of poster paint, four spill-proof paint cups, roll of easel paper, 10 jumbo triangular chalk sticks, felt eraser, dry-erase marker and four paint brushes.