Kindle Available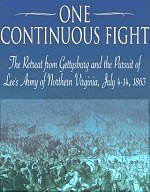 One Continuous Fight: The Retreat from Gettysburg and the Pursuit of Lee's Army of Northern Virginia
The first detailed military history of Lee's retreat and the Union effort to catch and destroy the wounded Army of Northern Virginia Complimented with 18 original maps, dozens of photos, and a complete driving tour with GPS coordinates of the entire retreat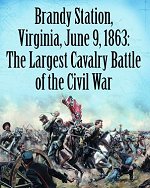 Brandy Station, Virginia, June 9, 1863: The Largest Cavalry Battle of the Civil War
Major General Joseph "Fighting Joe" Hooker. Relieving the disgraced and outmatched Burnside, Hooker reorganized his troops, establishing regular drills, procuring adequate rations and instituting company colors, thereby giving his soldiers back their fighting spirit.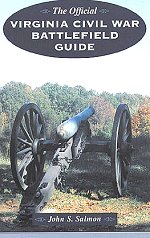 The Official Virginia Civil War Battlefield Guide
Virginia was host to nearly 1/3rd of all Civil War engagements. This guide covers them all like a mini-history of the war. This guide organizes battles chronologically. Each campaign has a detailed overview, followed by concise descriptions of the individual engagements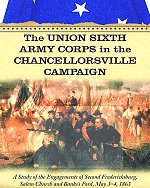 Union Sixth Army Corps in the Chancellorsville Campaign: A Study of the Engagements of Second Fredericksburg, Salem Church And Banks's Ford
The winter of 1862-1863 found the Union's Army of the Potomac in sad shape. Bloody battles, multiple defeats, lack of adequate provisions and high desertion rates had left even the hardiest Union soldiers dispirited
Kindle Available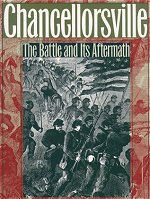 Chancellorsville
The Battle and Its Aftermath
Chancellorsville was a remarkable victory for Robert E. Lee's troops, a fact that had enormous psychological importance for both sides, which had met recently at Fredericksburg and would meet again at Gettysburg in just two months. But the achievement, while stunning, came at an enormous cost: more than 13,000 Confederates became casualties, including Stonewall Jackson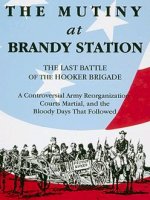 The Mutiny at Brandy Station: The Last Battle of the Hooker Brigade
The character and actions of men who served the United States Army of the Potomac in 1864. Follows key players through the reorganization, the courts martial, and into the Wilderness using direct quotes from their diaries, memoirs, and reports as well as original transcripts of the trials
Kindle Available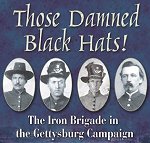 Those Damned Black Hats!
The Iron Brigade in the Gettysburg Campaign
Memorable Battles at South Mountain, Antietam, Chancellorsville, Mine Run, the Overland Campaign, and the grueling fighting around Petersburg. None of these battles compared with the "four long hours" of July 1, 1863, at Gettysburg, where the Iron Brigade was all but wrecked.
Kindle Available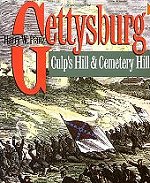 Gettysburg-Culp's Hill and Cemetery Hill
In this companion to his celebrated earlier book, Gettysburg: The Second Day, Pfanz provides the first definitive account of the fighting between the Army of the Potomac and Robert E. Lee's Army of Northern Virginia at Cemetery Hill and Culp's Hill--two of the most critical engagements fought at Gettysburg. 15 maps. 76 illus.