Breckinridge reluctantly launched the attack with all five of his brigades at 4 PM. The Confederate charge quickly took the hill and continued on pushing towards the ford. As the Confederates attacked, they came within range of fifty-seven Union cannon massed on the west side of the Stones River. General Crittenden watched as his guns went to work.
"Van Cleve's Division of my command was retiring down the opposite slope, before overwhelming numbers of the enemy, when the guns … opened upon the swarming enemy. The very forest seemed to fall … and not a Confederate reached the river."
The cannon took a heavy toll. In forty-five minutes their concentrated fire killed or wounded more than 1,800 Confederates. A Union counterattack pushed the shattered remnants of Breckinridge's Division back to Wayne's Hill.
Faced with this disaster and the approach of Union reinforcements, General Bragg ordered the Army of Tennessee to retreat on January 3, 1863. Two days later, the battered Union army marched into Murfreesboro and declared victory.
January 2 Afternoon Attack Troop Positions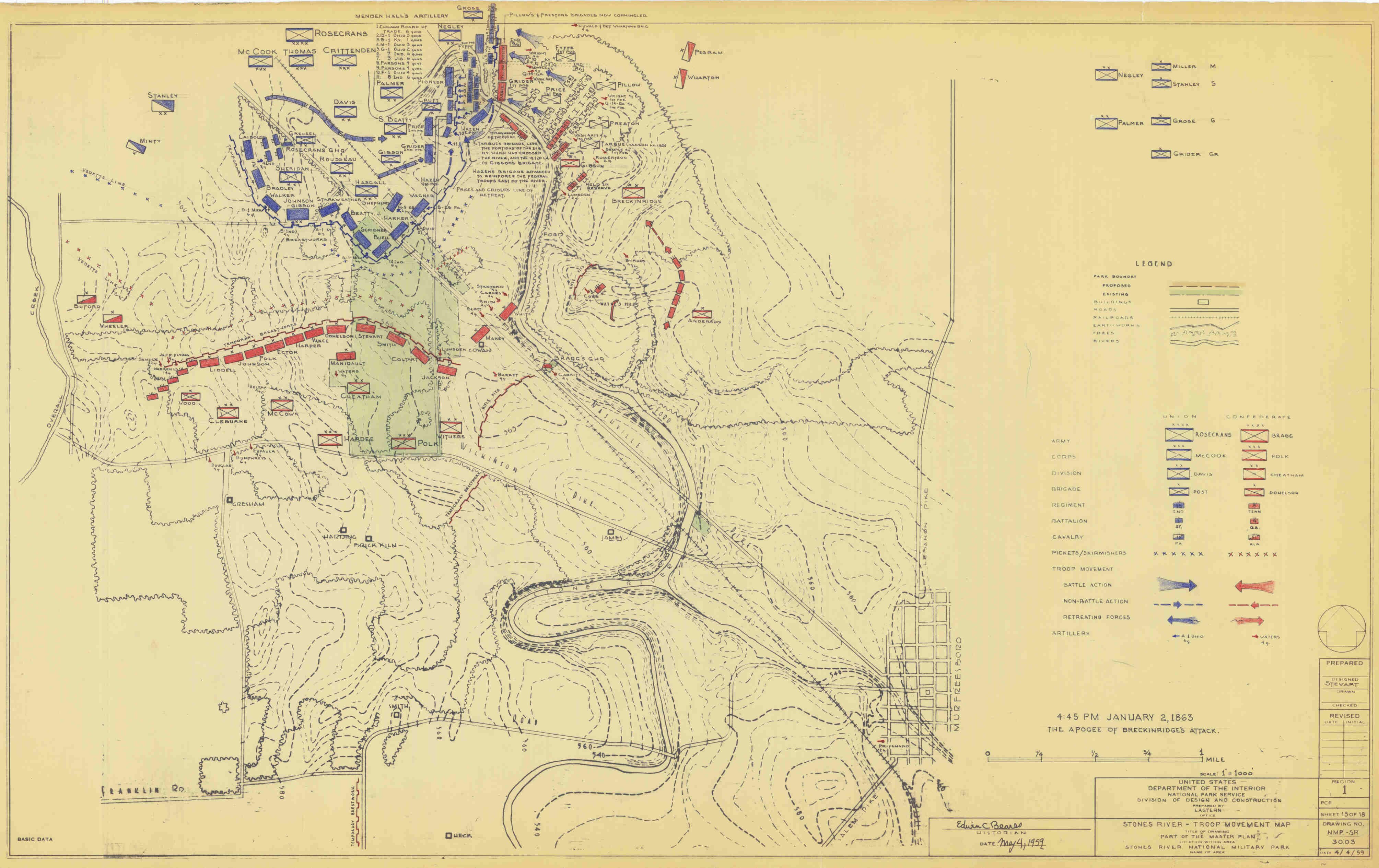 The Battle of Stones River was one of the bloodiest of the war. More than 3,000 men lay dead on the field. Nearly 16,000 more were wounded. Some of these men spent as much as seven agonizing days on the battlefield before help could reach them. The two armies sustained nearly 24,000 casualties, which was almost one-third of the 81,000 men engaged.
As the Army of Tennessee retreated they gave up a large chunk of Middle Tennessee. The rich farmland meant to feed the Confederates now supplied the Federals. General Rosecrans set his army and thousands of contraband slaves to constructing a massive fortification, Fortress Rosecrans that served as a supply depot and base of occupation for the Union for the duration of the war.
President Lincoln got the victory he wanted to boost morale and support the Emancipation Proclamation. How important was this victory to the Union? Lincoln himself said it best in a telegram to Rosecrans later in 1863.
"I can never forget, if I remember anything, that at the end of last year and the beginning of this, you gave us a hard earned victory, which had there been a defeat instead, the country scarcely could have lived over."