USS Gettysburg (1864-1879).
Previously the civilian steamship Douglas (1858-1863) and the blockade runner Margaret and Jessie (1863)
The 726-ton (burden) iron side-wheel steamship Douglas was built at Glasgow, Scotland, in 1858 for employment as an Isle of Man packet. Purchased by Confederate interests in November 1862, she soon began a remarkable career as a blockade runner. Douglas arrived at Charleston, South Carolina, in late January 1863 on her first voyage through the Federal blockade. She was renamed Margaret and Jessie shortly afterwards. During the next nine months, she made eight more runs into Southern ports, five to Charleston and three to Wilmington, North Carolina. While attempting another passage to Wilmington, she was captured by USS Nansemond and the U.S. Army transport Fulton on 5 November 1863.
Later in the month, the erstwhile blockade runner was purchased by the U.S. Navy. She was converted to a gunboat and commissioned as USS Gettysburg in early May 1864. Sent back to the scene of her earlier exploits, she now began to enforce the North's blockade of the South and was involved in the capture of three steamers during the rest of the year: Little Ada (9 July), Lilian (24 August) and Armstrong (4 December). Later in December 1864 and in mid-January 1865, Gettysburg took part in the two attacks that finally captured Fort Fisher, guardian of the entrance to the port of Wilmington. In addition to shelling the fort, during the January attack she put ashore a landing party of crewmen, who suffered serious casualties while attempting to force their way into the fortress. Gettysburg subsequently was used as a transport along the Atlantic Coast until decommissioned in June 1865.
Gettysburg recommissioned in December 1866 for a brief visit to the Caribbean, but went out of service at the beginning of March 1867. A year later she was reactivated and sent to the Caribbean area to conduct scientific work and protect American interests. She was again out of commission between October 1869 and November 1873. Her next period of active duty included transport duty along the Atlantic coast, punctuated by service in February-May 1874 supporting a survey of possible inter-oceanic canal routes across Central America.
Laid up again during April-September 1875, Gettysburg was assigned to carry out navigational surveys in the West Indies during late 1875 and the first several months of 1876. Following shipyard work, in October 1876 she went to the Mediterranean Sea for more survey duty. Gettysburg remained in the "middle sea" for the rest of her Navy career. She was decommissioned and sold at Genoa, Italy, in May 1879.
Painting by De Simone, depicting the ship underway in the Bay of Naples, Italy, in 1878.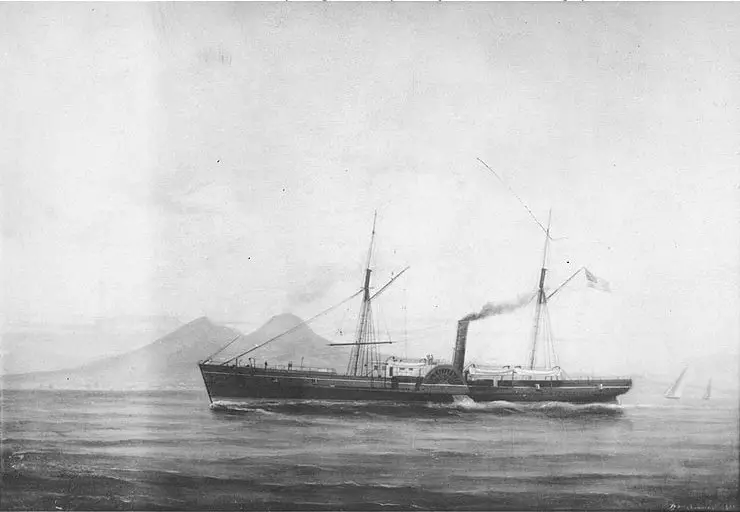 Montage featuring a painting of the ship (by De Simone, Naples, 1878) and views of four officers who served in her in 1864-1865.
The officers are (clockwise from upper right):
Lieutenant Roswell H. Lamson., Commanding Officer;
Henry S. Hutchings, Paymaster's Clerk;
Acting Master's Mate H.J. ("I" ?) Derbyshire; and
Acting 3rd Assistant Engineer Enoch B. Carter (probably -- there is no Engineer named "William Carter" in contemporary Navy Registers).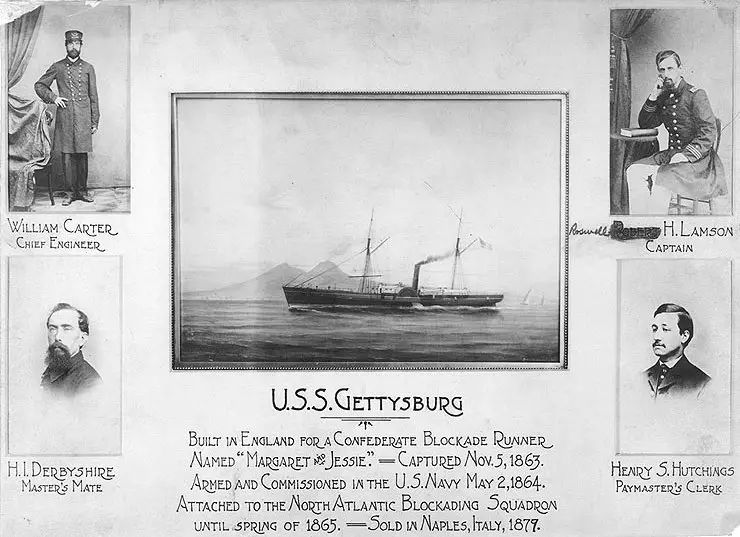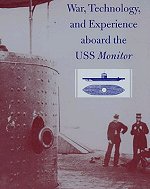 War, Technology, and Experience aboard the USS Monitor
The experience of the men aboard the Monitor and their reactions to the thrills and dangers that accompanied the new machine. The invention surrounded men with iron and threatened their heroism, their self-image as warriors, even their lives





Kindle Available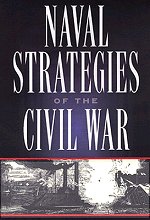 Naval Strategies of the Civil War: Confederate Innovations and Federal Opportunism
Compare and contrast the strategies of the Southern Secretary of the Navy, Mallory, against his rival in the North, Welles. Mallory used technological innovation and the skill of individuals to bolster the South's seapower against the Union Navy's superior numbers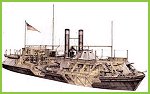 Union River Ironclad 1861-65
At the start of the American Civil War, neither side had warships on the Mississippi River. In what would prove the vital naval campaign of the war, both sides fought for control of the river. While the Confederates relied on field fortifications and small gunboats, the Union built a series of revolutionary river ironclads