One of the heaviest of the Civil War Naval battles was fought at Fort Fisher in 1864. This place guarded the approaches to Wilmington, North Carolina . Troops under Butler and a large fleet under Admiral Porter were destined for this enterprise. An incendiary vessel was exploded close to the works without effect on the 23rd-24th of December, and the ships engaged on the 24th.
The next day the troops were disembarked, only to be called off after a partial assault. Butler then withdrew, and Porter was informed on the 31st that " a competent force properly commanded " would be sent out. On the 8th of January 1865 General Terry arrived with the land forces, and the armada arrived off Fisher on the 12th. On the 13th, 6000 men were landed, covered by the guns of the fleet, and, after Porter had subjected the works to a terrific bombardment, Fisher was brilliantly carried by storm on the 15th. Reinforcements arriving, the whole Union force then marched inland to meet Sherman.
"Second Attack upon Fort Fisher, showing the positions of the vessels, and the lines of fire", 13-15 January 1865

Chart by Walter A. Lane, published in "The Soldier in our Civil War", Volume II.
The positions of 58 ships are represented on the chart. Click to enlarge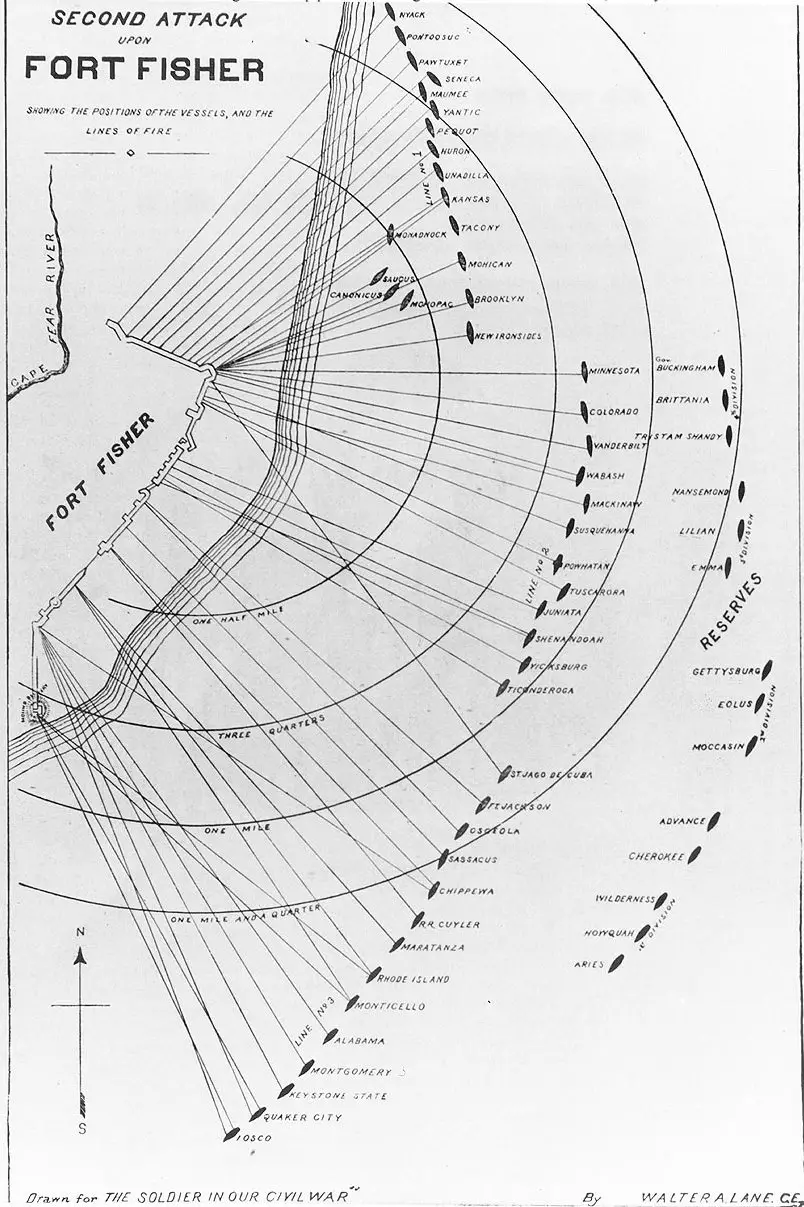 Lithograph after a drawing by T.F. Laycock, published by Endicott & Co., New York, 1865, depicting the North Atlantic Blockading Squadron bombarding Fort Fisher, North Carolina, in preparation for its capture. The print is dedicated to Commodore S.W. Godon, USN.
Ships present, as named on the original print, are (from left to right in the main battle line): USS Tacony ; USS Maumee ; USS Ticonderoga ; USS Shenandoah ; USS Tuscarora ; USS Juniata ; USS Wabash ; USS Susquehanna ; USS Colorado ; USS Minnesota ; USS Brooklyn ; USS New Ironsides and USS Mohican .
Ships in the foreground are (left to right, from the center of the view): USS Powhatan ; USS Mackinaw ; USS Vanderbilt and USS Malvern (Flagship of Rear Admiral David Dixon Porter).
Monitors in the right middle distance are: USS Monadnock (with two turrets); USS Mahopac ; USS Saugus and USS Canonicus .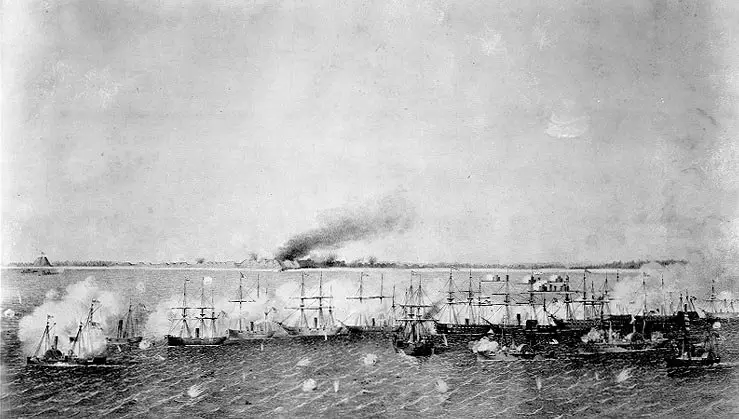 More Civil War Navy Ships and Battles
Kindle Available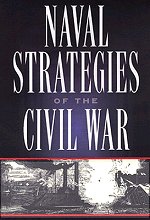 Naval Strategies of the Civil War: Confederate Innovations and Federal Opportunism
Compare and contrast the strategies of the Southern Secretary of the Navy, Mallory, against his rival in the North, Welles. Mallory used technological innovation and the skill of individuals to bolster the South's seapower against the Union Navy's superior numbers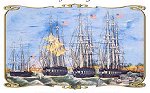 The Civil War on Hatteras Island North Carolina
New light on the experiences of Civil War soldiers stationed on the Outer Banks. It follows the crucial maritime battles along the Outer Banks and the famous Burnsides Expedition. Aa fascinating history of how one of America's most treasured islands played a significant part in the Civil War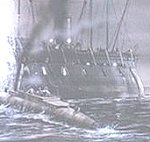 Confederate Submarines and Torpedo Vessels 1861-65
Interesting information and many excellent illustrations. It addresses the CSA David class torpedo boats and the Hunley (and its predecessors), as well as Union examples such as the Alligator and the Spuyten Duyvil