Crampton's Gap September, 1862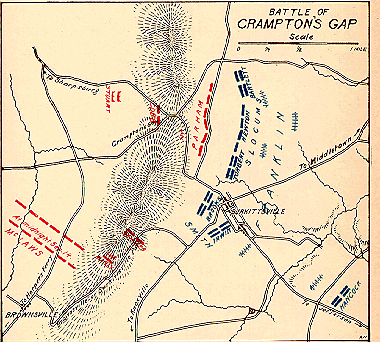 This crestline was once a main avenue of the "Underground Railroad". Many a fugitive slave made the descent into Crampton Gap and hastened on toward the Pennsylvania line and freedom, perhaps only to fall prey to the slave hunters who combed the mountain farther north.
Federal troops under Franklin arrived at the gap at noon 14th of September, 1862, for a portion of the Battle of South Mountain. The Confederate forces, determined to hold the mountain at the three gaps - Turners, Fox's and Crampton - were formed with their right strongly entrenched behind Burkittsville, at the eastern foot of the gap.
Forced up into the gap itself, they staged a valiant three-hour stand, but finally fled westward into Pleasant Valley, though not until it was too late for Franklin's forces to bring relief to the surrounded garrison at Harpers Ferry. The Union forces counted 112 killed and 400 wounded in the narrow limit of this battlefield, and Confederate losses were somewhat greater.
Casualties*
U.S.A.-
443 Killed,1806 Wounded
Maj.Gen. M.Reno Killed
C.S.A.-
500 Killed, 2343 Wounded
1500 Missing or Captured
Bri.Gen. Garland Killed

*Crampton's, Turner's, and Fox's Gaps
Total casualties for the series of battles differ widely. This is due to the reporting from the three gaps involved. U.S. Government reporting states that 4,500 men lost their lives from both sides.
More On South Mountain
Civil War Exhibits