'Tis old Stonewall, the Rebel, that leans on his sword,
And while we are mounting, prays low to the Lord:
"Now each cavalier that loves Honor and Right,
Let him follow the feather of Stuart tonight."

(Chorus)
Come tighten your girth and slacken your rein;
Come buckle your blanket and holster again;
Try the click of your trigger and balance your blade,
For he must ride sure that goes Riding a Raid!

Now gallop, now gallop, to swim or to ford!
Old Stonewall, still watching, prays low to the Lord:
"Good-bye dear old Rebel! The river's not wide,
And Maryland's lights in her window to guide."
(Chorus)

There's a man in a white house with blood on his mouth!
If there's Knaves in the North, there are braves in the South.
We are three thousand horses, and not one afraid;
We are three thousand sabres and not a dull blade.
(Chorus)

Then gallop, then gallop, by ravines and rocks!
Who would bar us the way take his toll in hard knocks;
For with these points of steel, on the line of Penn,
We have made some fine strokes-and we'll make 'em again.


Listen
Download and Copy
Riding A Raid
MP3 Format





Civil War Music CDs

Civil War MP3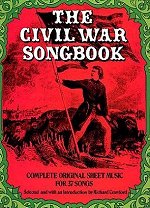 The Civil War Songbook
This collection of "War Between the States" music has been the standard one in the re-enacting circuit for many years now. The sheet music is published just as it was originally and it contains some of the best known classic songs.