USS Sassacus (1863-1868)
USS Sassacus was built at the Portsmouth Navy Yard, Kittery, Maine, as the first of a class of twenty-eight 974-ton "Double-Ender" side-wheel steam gunboats. Commissioned in October 1863, she spent several months undergoing repairs and then joined the blockade off Wilmington, North Carolina. In February 1864, Sassacus was involved in the destruction of two blockade runners, one after a long chase. She began operations in the North Carolina Sounds in April 1864, and on 5 May closely engaged the Confederate ironclad CSS Albemarle. During this action, Sassacus was badly damaged when she rammed the enemy ironclad, which escaped essentially unhurt. Despite her damages, she remained on duty in North Carolina and Virginia waters until September 1864, when she could finally be released for refit.
Sassacus returned to war service in November 1864 and took part in the two assaults on Fort Fisher, N.C., in December and January. She then operated on the rivers leading to Wilmington, N.C., and Richmond, Virginia, during the remaining months of the Civil War. Sassacus decommissioned in May 1865 and was sold in August 1868.
"The Steamship 'Sassacus' Ramming The Rebel Ram 'Albemarle'"
Engraving published in "Harper's Weekly", 4 June 1864, depicting USS
Sassacus
ramming CSS
Albemarle
, during the Confederate ironclad's engagement with U.S. Navy gunboats in Albemarle Sound, North Carolina, 5 May 1864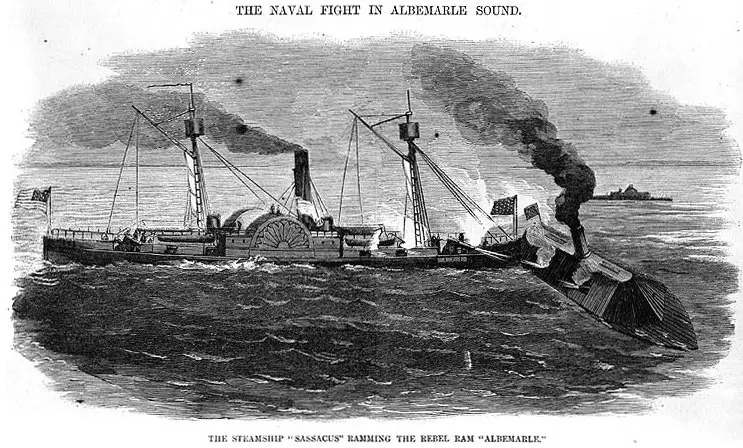 "Wood versus Iron"
19th Century photograph of an artwork by Acting Second Engineer Alexander C. Stuart, USN, 1864.
It shows CSS
Albemarle
engaging several Federal gunboats on Albemarle Sound, North Carolina, on 5 May 1864. USS
Sassacus
is in left center, ramming the Confederate ironclad. Other U.S. Navy ships seen are (from left):
Commodore Hull
,
Wyalusing
and
Mattabesett
. The Confederate transport
Bombshell
, captured during the action, is in the right background.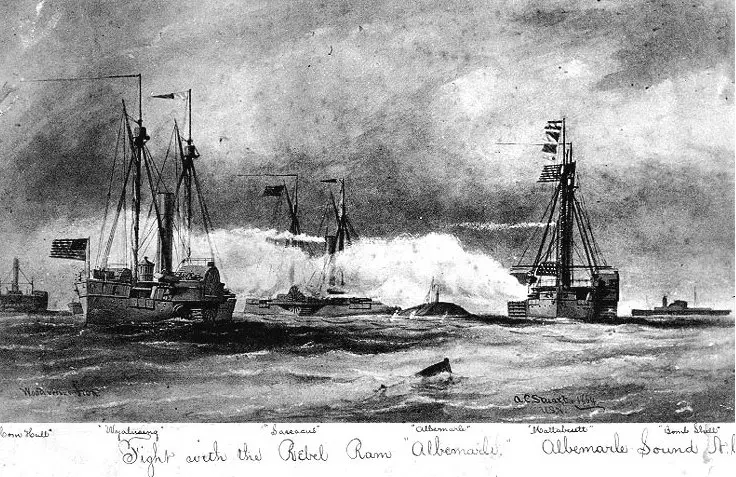 Kindle Available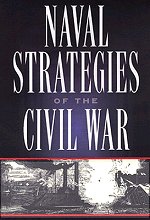 Naval Strategies of the Civil War: Confederate Innovations and Federal Opportunism
Compare and contrast the strategies of the Southern Secretary of the Navy, Mallory, against his rival in the North, Welles. Mallory used technological innovation and the skill of individuals to bolster the South's seapower against the Union Navy's superior numbers



Kindle Available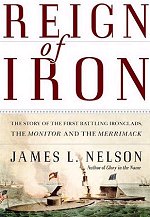 Reign of Iron: The Story of the First Battling Ironclads, the Monitor and the Merrimack
The first ironclad ships to fight each other, the Monitor and the Virginia (Merrimack), were the unique products of American design genius