USS Miantonomoh (1865-1874)
USS Miantonomoh , a 3401-ton twin-turret monitor, was built at the New York Navy Yard, Brooklyn, New York. Commissioned in September 1865, she served briefly with the North Atlantic Squadron along the U.S. east coast, then was inactive at the Washington Navy Yard, D.C., until April 1866. After a short stay at New York, in early May Miantonomoh departed on a historic trans-Atlantic voyage, accompanied by USS Augusta and USS Ashuelot . Carrying Assistant Secretary of the Navy Gustavus V. Fox for most of the trip, she arrived in Ireland in mid-June to begin nearly a year of visits to ports from the Baltic to the Mediterranean.
Miantonomoh was decommissioned at Philadelphia, Pennsylvania, in July 1867, soon after returning to the U.S. from Europe. She recommissioned in November 1869. In January 1870, she steamed north to meet the British ironclad Monarch and USS Plymouth , which were bringing the body of the great philanthropist George Peabody back to Massachusetts for burial. The monitor then operated along the U.S. Atlantic coast until July 1870, when she was laid up at the boston Navy Yard. During that period of active service, she was involved in two collisions, sinking the schooner Sarah at New York in December 1869 and the Navy tug Maria off Martha's Vinyard, Massachusetts, in January 1870. In 1874-75, as part of a program to "rebuild" Civil War era monitors into modern ones, her wooden hull was broken up and construction of a new iron-hulled ship, also named Miantonomoh , was begun at Chester, Pennsylvania, essentially retaining only the name of the original.
Watercolor by Oscar Parkes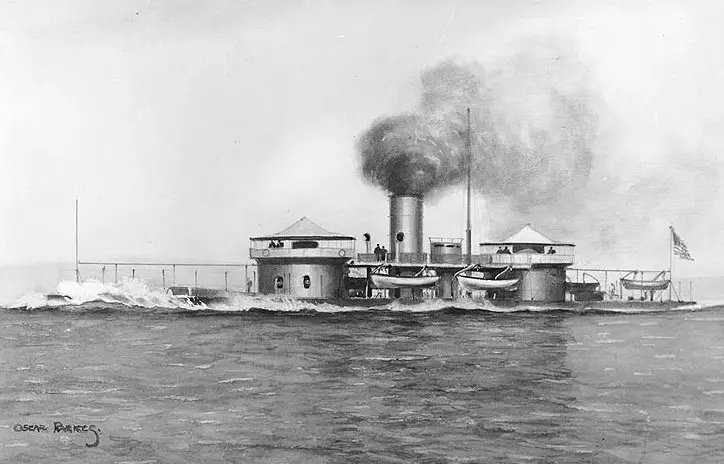 Moored off the Washington Navy Yard, D.C., in 1865-66. USS Montauk is tied up alongside, to the left.
The Navy Yard's western shiphouse is visible in the right background.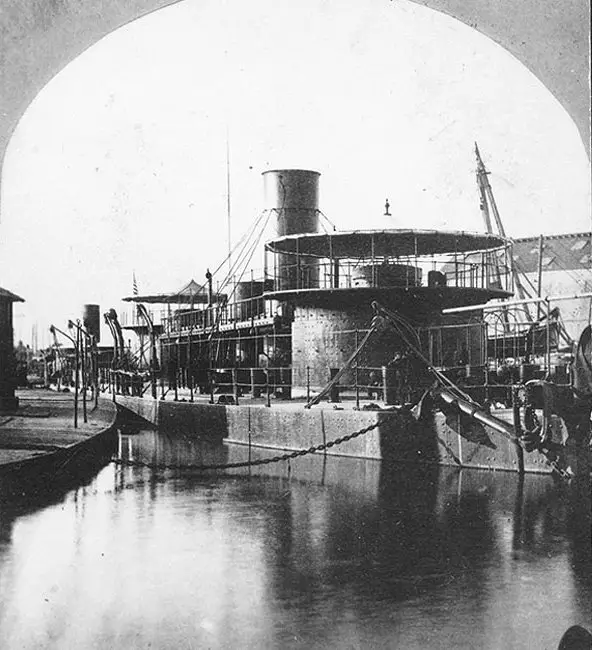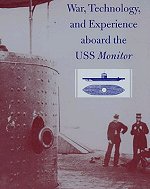 War, Technology, and Experience aboard the USS Monitor
The experience of the men aboard the Monitor and their reactions to the thrills and dangers that accompanied the new machine. The invention surrounded men with iron and threatened their heroism, their self-image as warriors, even their lives








Kindle Available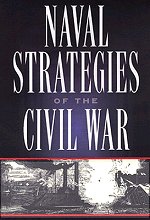 Naval Strategies of the Civil War: Confederate Innovations and Federal Opportunism
Compare and contrast the strategies of the Southern Secretary of the Navy, Mallory, against his rival in the North, Welles. Mallory used technological innovation and the skill of individuals to bolster the South's seapower against the Union Navy's superior numbers