USS Malvern (1863-1865).
Briefly named Ella and Annie in 1863
USS Malvern , a 1477-ton (burden) iron side-wheel gunboat, was built in 1860 as the commercial steamship William G. Hewes . She later became a Confederate blockade runner, was renamed Ella and Annie and on 9 November 1863 was captured by USS Niphon while attempting to enter the port of Wilmington, North Carolina.
Soon purchased by the U.S. Navy, she was briefly commissioned under the name Ella and Annie in December 1863 to search for the captured steamship Chesapeake . After finding and seizing that vessel in Nova Scotia waters, Ella and Annie returned to the Boston Navy Yard to complete her conversion to a warship. Commissioned in February 1864 as USS Malvern , she was employed for much of the remainder of the Civil War as flagship of the North Atlantic Blockading Squadron. As such, she was present during the capture of Fort Fisher, North Carolina, in January 1865 and received credit for the subsequent capture of the blockade running steamers Charlotte and Stag . During the next month Malvern took part in operations on the Cape Fear River, N.C., and was active in the James River area of Virginia as the Civil War neared its end. Following the fall of Richmond, Va., in early April 1865, she transported President Abraham Lincoln up the James to visit that city, the former capital of the Confederacy.
In October 1865, some six months after the war's conclusion, USS Malvern was sold at auction. She soon regained her original name, William G. Hewes , and in early 1866 began what was to be nearly three more decades of commercial employment. On 20 February 1895 the old steamship was wrecked during a storm off the Cuban coast.
At the Norfolk Navy Yard, Virginia, circa 1865, while serving as flagship of the North Atlantic Blockading Squadron.
Note the ruined buildings in the background.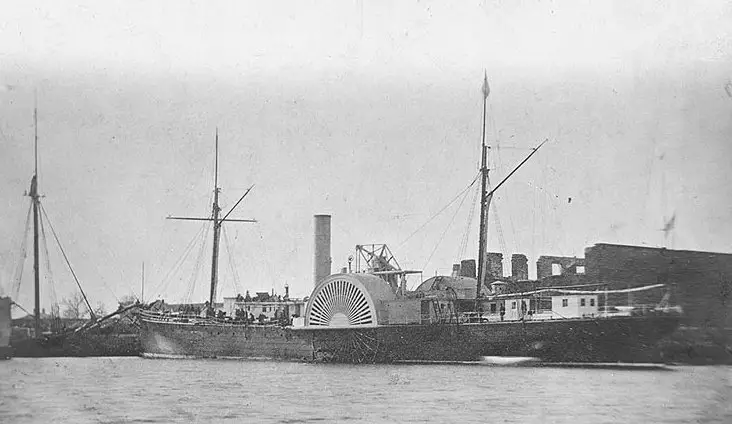 Kindle Available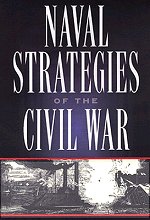 Naval Strategies of the Civil War: Confederate Innovations and Federal Opportunism
Compare and contrast the strategies of the Southern Secretary of the Navy, Mallory, against his rival in the North, Welles. Mallory used technological innovation and the skill of individuals to bolster the South's seapower against the Union Navy's superior numbers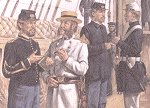 American Civil War Marines 1861-65
Marines wearing blue and grey fought in many dramatic actions afloat and ashore