USS James Adger (1861-1866).
Originally and later the civilian steamship James Adger (1852-1878)
James Adger , a 1364-ton wooden side-wheel steamship, was built at New York City in 1851-52. She was chartered by the Navy in July 1861 for Civil War service and, following conversion to a warship, was commissioned as USS James Adger two months later. Her initial service was spent searching the North Atlantic for the Confederate diplomats James Mason and John Slidell.
In December 1861 she was ordered to join the blockade of the South's Atlantic coast, a task she performed with notable success. While stationed off Charleston, South Carolina, during 1862-1863, she shared in the capture of the steamers Emily St. Pierre and Elizabeth , supported operations to take islands along the Georgia coast, and towed USS Montauk into a position from which that monitor could engage and destroy the Confederate steamship Rattlesnake .
In mid-1863 she was assigned to the blockade off Wilmington, North Carolina, where she captured or helped captured several more blockade runners, including the steamers Kate , Cornubia , Robert E. Lee and Ella .
Under repair from December 1863 into June 1864, James Adger then returned to the South Atlantic Blockading Squadron. In April 1865 she convoyed merchant shipping.
After the Civil War was over, she was sent to patrol the Caribbean, a function she performed from August 1865 until February 1866. USS James Adger was decommissioned at New York in May 1866. In October of that year she was sold to private owners, who put her back into commercial service under the same name. The old steamship was finally broken up in 1878, following some twenty-five years of civilian and Navy service.

Built at New York City in 1852, this steamer was commercially employed as SS James Adger in 1851-1861 and in 1866-1878. Between 1861 and 1866, she served as USS James Adger .
Kindle Available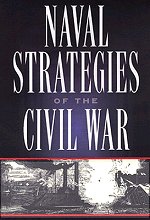 Naval Strategies of the Civil War: Confederate Innovations and Federal Opportunism
Compare and contrast the strategies of the Southern Secretary of the Navy, Mallory, against his rival in the North, Welles. Mallory used technological innovation and the skill of individuals to bolster the South's seapower against the Union Navy's superior numbers