USS Hatteras (1861-1863)
USS Hatteras , a 1126-ton iron side-wheel gunboat, was built in 1861 at Wilmington, Delaware, as the civilian steamer Saint Marys . She was purchased by the Navy in September 1861 and commissioned a month later.
Hatteras was initially assigned to the blockade of the Florida coast, where, in January 1862, she raided Cedar Keys, destroying facilities and seven schooners. Later in January, after being transferred to the Gulf of Mexico, she engaged CSS Mobile off Berwick, Louisiana.
Over the next several months, Hatteras was very active against blockade runners, capturing several steamers and sailing vessels. On 11 January 1863, while off Galveston, Texas, she encountered the Confederate cruiser Alabama , which was masquerading as a British warship. After a short, vigorous action with her more heavily-armed opponent, USS Hatteras was sunk.
19th Century print, depicting the sinking of Hatteras by CSS Alabama , off Galveston, Texas, 11 January 1863.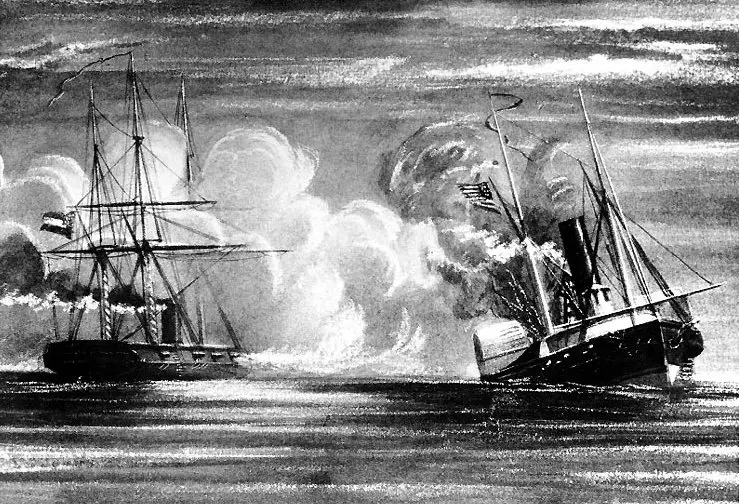 Kindle Available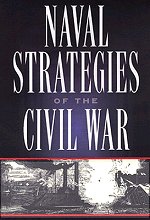 Naval Strategies of the Civil War: Confederate Innovations and Federal Opportunism
Compare and contrast the strategies of the Southern Secretary of the Navy, Mallory, against his rival in the North, Welles. Mallory used technological innovation and the skill of individuals to bolster the South's seapower against the Union Navy's superior numbers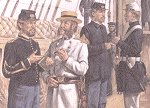 American Civil War Marines 1861-65
Marines wearing blue and grey fought in many dramatic actions afloat and ashore