Steamship Thistle (1863).
Blockade Runner
Served as USS Dumbarton in 1864-1867.
Later: commercial steamer Dumbarton (1867-1868) and City of Quebec (1868-1870)
Thistle , a 636-ton (burden) iron side-wheel steamship, was built at Glasgow, Scotland in 1863. She was operated as a blockade runner during the American Civil War, making a successful round-trip voyage between Bermuda and Wilmington, North Carolina, in March-May 1864. However, another attempt to run into Wilmington was cut short when she was captured by USS Fort Jackson on 4 June.
The U.S. Navy purchased her from the Boston Prize Court in July and, after conversion to a gunboat, placed her in commission as USS Dumbarton in August 1864. After participating in a fruitless search for the Confederate raider Tallahassee , she returned to the Wilmington area, where she served until December as an enforcer of the blockade that she had previously challenged. Dumbarton had flagship duty on Virginia's James River during February and March 1865 and was subsequently decommissioned at Washington, D.C.. Moved to New York in November 1865, she was sold to private owners in October 1867.
Briefly retaining the name Dumbarton , she changed to British registry and was given a new rig and engines in the months after she left Navy ownership. During 1868-1870 she operated under the name City of Quebec , but was sunk in a collision while in Canadian waters on 1 May 1870 (another source gives the date of her loss as 28 April 1870).
Artwork by Erik Heyl, 1957, for use in his book "Early American Steamers", Volume III.
Built in Scotland in 1863, Thistle was a blockade runner until captured on 4 June 1864. She served as USS Dumbarton in 1864-1867 and was the merchantman Dumbarton in 1867-1868. Rerigged and reengined in 1868, she operated under the British flag as the SS City of Quebec until sunk in a collision on 1 May 1870.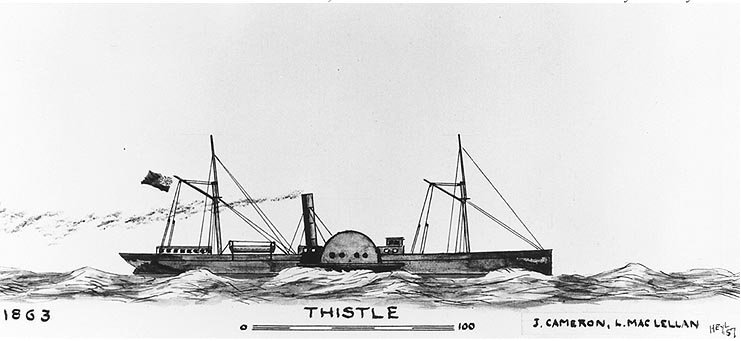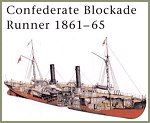 Confederate Blockade Runner 1861-65
Every aspect of Confederate ironclads is covered: design, construction, armor, armament, life on board, strategy, tactics, and actual combat actions.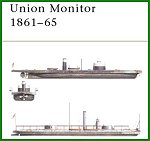 Union Monitor 1861-65
The first seagoing ironclad was the USS Monitor, and its profile has made it one of the most easily recognised warships of all time. Following her inconclusive battle with the Confederate ironclad Virginia on March 9, 1862, the production of Union monitors was accelerated.