USS Daylight (1861-1865).
Originally the civilian steamship Daylight .
USS Daylight , a 682-ton screw steam gunboat, was built in 1859-60 at New York City. Originally in commercial use, she was chartered by the Navy in May 1861 and placed in commission in June as USS Daylight . During next three and a half years, she operated along the coasts of Virginia and North Carolina, enforcing the Federal blockade of the Confederacy. She captured or helped capture four would-be blockade runners in 1861 and five in 1862, as well as taking part in the destruction of three more in 1862-63. In April 1862, Daylight participated in a bombardment of Fort Macon, North Carolina, and was damaged by Confederate gunfire. Transferred to the James River in October 1864, she remained in that area until the Civil War's climax in May 1865. USS Daylight was decommissioned at New York late in that month and was sold in October 1865. She soon reentered commercial service under the name Santee . She was converted to a barge in 1886 and remained in use until about 1907.
Watercolor by Erik Heyl, for use in his book "Early American Steamers", Volume III.
This vessel served as USS Daylight in 1861-1865 and was later the civilian steamer Santee



"Our Blockading Fleet off North Channel, Charleston Harbor, South Carolina."
Line engraving published in "Harper's Weekly"
U.S. Navy ships depicted are (from left to right): South Carolina , G.W. Blunt , Daylight and Stars and Stripes




Kindle Available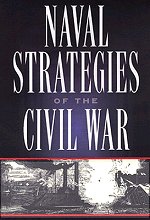 Naval Strategies of the Civil War: Confederate Innovations and Federal Opportunism
Compare and contrast the strategies of the Southern Secretary of the Navy, Mallory, against his rival in the North, Welles. Mallory used technological innovation and the skill of individuals to bolster the South's seapower against the Union Navy's superior numbers




Kindle Available



Confederate Ironclad vs Union Ironclad: Hampton Roads 1862
The Ironclad was a revolutionary weapon of war. Although iron was used for protection in the Far East during the 16th century, it was the 19th century and the American Civil War that heralded the first modern armored self-propelled warships.