USS Arizona (1863-1865).
The 950-ton iron side-wheel steamship Arizona was built at Wilmington, Delaware, in 1859 for commercial employment. She was seized by the Confederates at New Orleans in January 1862 and placed in service as a blockade runner. On 29 October 1862, while bearing the name Caroline and attempting to run into Mobile, Alabama, she was captured in the Gulf of Mexico by USS Montgomery .
Purchased by the U.S. Navy in January 1863, she was commissioned as USS Arizona in early March and sent back to the Gulf. On 23 March, while en route to her new station, she captured a blockade-running schooner. Upon joining the West Gulf Blockading Squadron, Arizona was assigned to the forces fighting to control the waters west of the lower Mississippi River. She participated in the successful engagement with CSS Queen of the West on 14 April 1863 and the capture of Fort Burton, Louisiana, six days later. During May she took part in operations on the Red, Black and Ouachita Rivers. After that, she supported the campaign that took Port Hudson in July, eliminating the final Confederate strong point on the Mississippi River.
On 8 September 1863, Arizona joined the gunboats Granite City , Sachem and Clifton in an attack on Sabine Pass, Texas, that resulted in a defeat for the Federal forces and the loss of Sachem and Clifton . The rest of her service was spent blockading the Texas coast with occasional operations on the Mississippi River and its tributaries. While steaming up the great river en route to New Orleans on 27 February 1865, USS Arizona was accidently destroyed by fire.
"Destruction of the 'Queen of the West' by Union Gun-Boats"
Line engraving published in "Harper's Weekly", 1863, depicting CSS Queen of the West being destroyed in Grand Lake, Louisiana, during an attack by USS Estrella (extreme left), Calhoun (extreme right) and Arizona (second from right), 14 April 1863


U.S. Navy gunboats Estrella , Calhoun , Arizona and Clifton (listed clockwise from lower right) engaging the Confederate gunboat J.A. Cotton off Butte a la Rose, Louisiana, on 20 April 1863. Confederate Fort Burton (shown at left) was captured on the same day.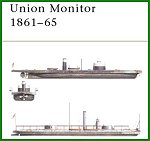 Union Monitor 1861-65
The first seagoing ironclad was the USS Monitor, and its profile has made it one of the most easily recognised warships of all time. Following her inconclusive battle with the Confederate ironclad Virginia on March 9, 1862, the production of Union monitors was accelerated. By the end of the year a powerful squadron of monitor vessels protected the blockading squadrons off the Southern coastline, and were able to challenge Confederate control of her ports and estuaries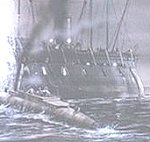 Confederate Submarines and Torpedo Vessels 1861-65
Interesting information and many excellent illustrations. It addresses the CSA David class torpedo boats and the Hunley (and its predecessors), as well as Union examples such as the Alligator and the Spuyten Duyvil