USS Aries (1863-1865).
Previously and later the civilian steamship Aries (1862-1863, 1865-1908)
Aries , a 820-ton iron screw steamer, was built at Sunderland, England, during 1861-1862, apparently intended for employment as a blockade runner in the American Civil War. She ran into Charleston, South Carolina, in mid-November 1862 and departed that port a month later. While attempting another penetration of the blockade on 28 March 1863, Aries was run ashore near Bull's Bay, S.C., and captured by USS Stettin . She was purchased by the Navy in May 1863 and commissioned as USS Aries in July. During the next month she was employed on transport service between Port Royal, S.C., and the Navy's northern bases. Disabled by a severe storm in late August, she was under repair until November 1863 and then joined the North Atlantic Blockading Squadron for operations along the North Carolina coast.
While blockading Wilmington, N.C., on 6 December 1863, Aries assisted in the capture of the steamer Ceres . Later in December she helped with salvage efforts and the ultimate destruction of the grounded blockade runner Antonica . Two more steamers, The Dare and Ranger , were chased ashore and destroyed with her participation on 7 and 11 January 1864. Over the next eleven months, she took part in other blockade enforcement actions, among them the capture of the Lady Sterling (which later became USS Hornet ) on 28 October and the destruction of the Ella on 3 December. Later in December, and in mid-January 1864, Aries was one of the large fleet of warships that participated in operations to capture Fort Fisher, thus ending Wilmington's days as a blockade running port.
After final operations in the Wilmington area, in March 1865 Aries went south to join the East Gulf Blockading Squadron, which was based at Key West, Florida. Under repair until May, her final seagoing operation was the hunt for the Confederate ironclad Stonewall . Sent to Boston soon afterwards, USS Aries was decommissioned there in June 1865 and sold at the beginning of August. Soon back in use as the merchant steamship Aries , she was employed along the east coast for decades and was not finally disposed of until 1908.
Artwork by Erik Heyl, 1955, for use in his book "Early American Steamers", Volume III. It depicts the ship as she appeared in merchant service after the Civil War.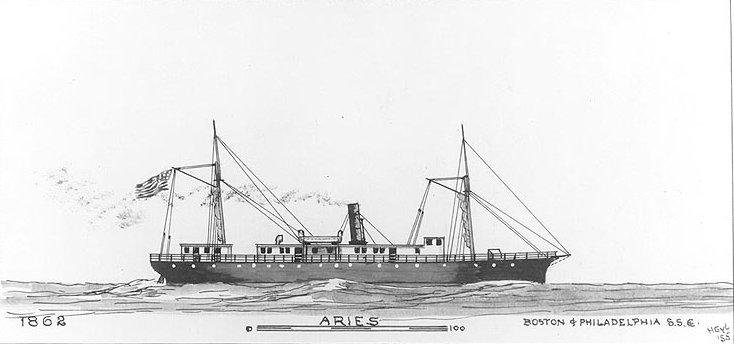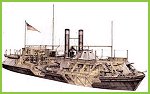 Union River Ironclad 1861-65
At the start of the American Civil War, neither side had warships on the Mississippi River. In what would prove the vital naval campaign of the war, both sides fought for control of the river. While the Confederates relied on field fortifications and small gunboats, the Union built a series of revolutionary river ironclads.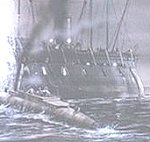 Confederate Submarines and Torpedo Vessels 1861-65
Interesting information and many excellent illustrations. It addresses the CSA David class torpedo boats and the Hunley (and its predecessors), as well as Union examples such as the Alligator and the Spuyten Duyvil