USS Adela (1863-1865)
Adela , a 585-ton iron side-wheel steamer, was originally built in the United Kingdom as a merchant vessel. On 7 July 1862, while in the Bahamas in anticipation of employment running the Federal blockade of the Confederacy, she was captured by USS Quaker City and USS Huntsville . Taken to Key West, Florida, she was condemned by the Prize Court there and, in May 1863, purchased by the U.S. Navy to be fitted out as a gunboat. She was commissioned as USS Adela by mid-June. Her first mission, lasting from mid-June into early July 1863, was to take part in the search for the Confederate cruisers Florida , Clarence and Tacony in the waters off the U.S. east coast.
Late in July, Adela was sent south to Key West to join the blockade of western Florida. On 16-17 October 1863, Adela and the gunboat Tahoma bombarded enemy fortifications at Tampa, covering the landing of men from both ships who proceeded inland to burn the blockade runners Scottish Chief and Kate Dale . Ambushed as it was returning, this landing force suffered the loss of several of its members before the rest could be reembarked. For the next year, Adela blockaded off St. George's Sound and St. Mark's, Florida, capturing the schooner Badger on 6 November 1864. Sent north later in November, the gunboat was under repair at New York until March 1865 and was then part of the Potomac Flotilla. USS Adela was decommissioned shortly after the end of the Civil War and was sold at the end of November 1865.
Drawing by George H. Rogers, depicting the ship "on blockading service off the coast of Florida, winter of 1863".
The artist served on board Adela as a Pharmacist's Mate.
Courtesy of Charles Rodgers Lord.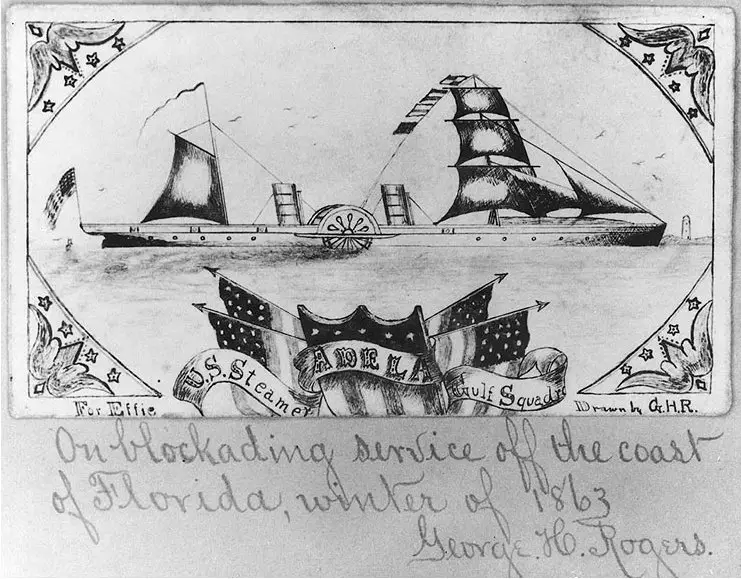 Kindle Available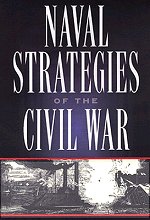 Naval Strategies of the Civil War: Confederate Innovations and Federal Opportunism
Compare and contrast the strategies of the Southern Secretary of the Navy, Mallory, against his rival in the North, Welles. Mallory used technological innovation and the skill of individuals to bolster the South's seapower against the Union Navy's superior numbers




Kindle Available



Confederate Ironclad vs Union Ironclad: Hampton Roads 1862
The Ironclad was a revolutionary weapon of war. Although iron was used for protection in the Far East during the 16th century, it was the 19th century and the American Civil War that heralded the first modern armored self-propelled warships.