Union Naval Triumph on the Mississippi, April 24th, 1862
Colored lithograph, published by Currier & Ives, 1862.
The original print bears the following descriptive text: "Destruction of the Rebel gunboats, rams and iron clad batteries by the Union Fleet under Flag Officer Farragut. The attack was commenced on the 18th of April and continued until the 25th resulting in the capture of Forts Jackson, St. Phillip, Livingston, Pike and the city of New Orleans, as well as the destruction of all the enemy gunboats, rams, floating batteries (iron clad), fire rafts, booms and chains. The enemy with their own hands destroying cotton and shipping valued at from eight to ten millions of dollars. 'The sight of this night attack was awfully grand, the river was lit up with blazing rafts filled with pine knots and the ships seemed to be fighting literally amidst flames and smoke.'".
In this view, ships are identified as (starting at top left center, up the river, running down to the right, then across toward the left): Confederate steamers; USS Cayuga (leading the Union column), USS Pensacola , burning confederate steamer, USS Varuna , USS Oneida , USS Mississippi (engaging the ram Manassas ), USS Richmond , USS Kineo , USS Hartford (flagship, in collision with a fire raft), USS Brooklyn and USS Winona .
A Confederate fire raft is in the lower right. Fort St. Phillip is shown at right and Fort Jackson at left.


Passage of Forts Jackson and St. Philip, April 24, 1862. Order of Attack
Chart showing the positions of U.S. Navy ships during the action (with individual ships identified, with their commanders), and of Confederate defenses ashore and afloat.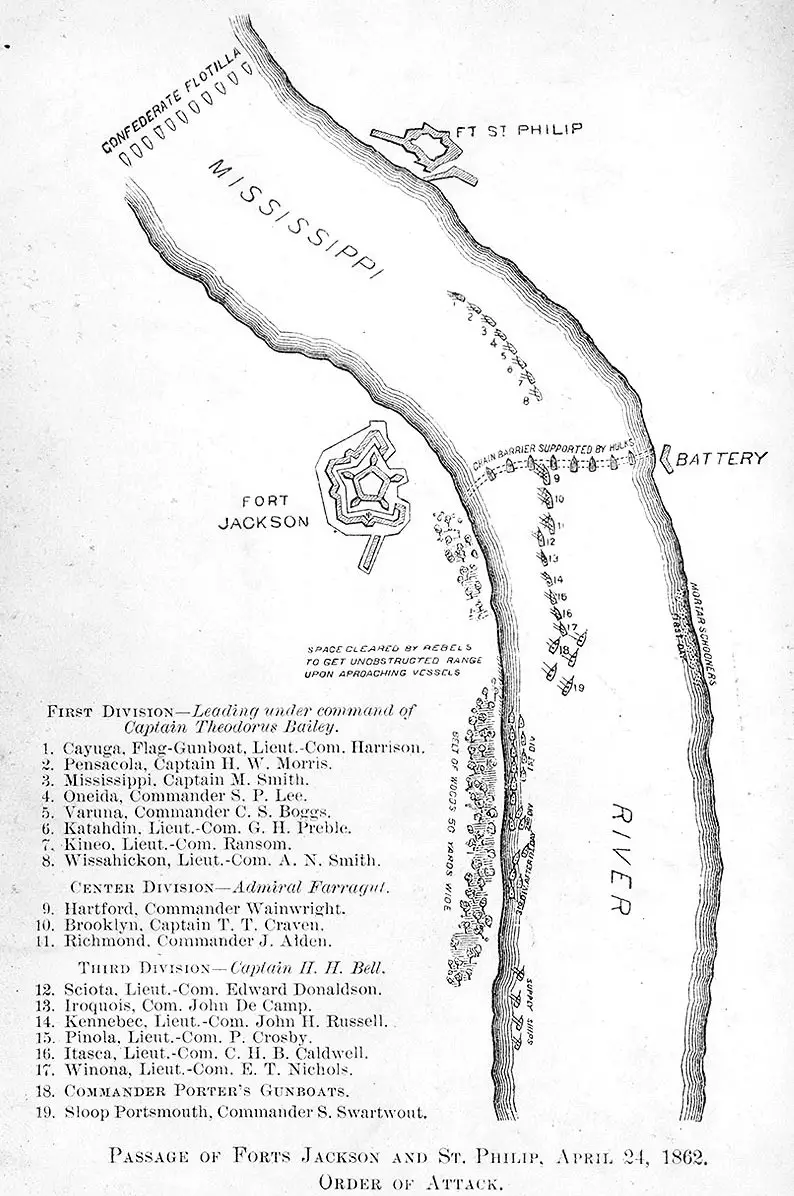 "Reconnoissance of Forts Jackson and St. Philip, on the Mississippi, by Gun-boats from Flag-officer Farragut's Squadron"
Line engraving published in "Harper's Weekly", 1862, depicting the attack on the obstructions below the forts, 20 April 1862.
U.S. Navy gunboats shown in right center are Itasca and Pinola . Further to the right are Kennebec and Winona . Fort Jackson is shown at far right, with Confederate gunboats beyond.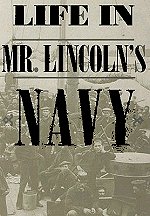 Life in Mr. Lincoln's Navy
A tantalizing glimpse into the hardships endured by the naval leadership to build and recruit a fighting force. The seaman endured periods of boredom, punctuated by happy social times and terrifying bouts of battle horror








Confederate Phoenix
The CSS Virginia
The CSS Virginia of the Confederate States Navy destroyed two of the most formidable warships in the U.S. Navy. Suddenly, with this event, every wooden warship in every navy in the world became totally obsolete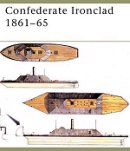 Confederate Ironclad 1861-65
Every aspect of Confederate ironclads is covered: design, construction, armor, armament, life on board, strategy, tactics, and actual combat actions.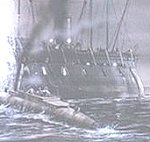 Confederate Submarines and Torpedo Vessels 1861-65
Interesting information and many excellent illustrations. It addresses the CSA David class torpedo boats and the Hunley (and its predecessors), as well as Union examples such as the Alligator and the Spuyten Duyvil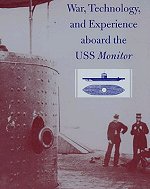 War, Technology, and Experience aboard the USS Monitor
The experience of the men aboard the Monitor and their reactions to the thrills and dangers that accompanied the new machine. The invention surrounded men with iron and threatened their heroism, their self-image as warriors, even their lives