Today, March 9, she expected to inflict a similar fate on the grounded steam frigate Minnesota and other enemy ships, probably freeing the lower Chesapeake Bay region of Union seapower and the land forces it supported. Virginia would thus contribute importantly to the Confederacy's military, and perhaps diplomatic, fortunes.
However, as they surveyed the opposite side of Hampton Roads, where the Minnesota and other potential victims awaited their fate, the Confederates realized that things were not going to be so simple. There, looking small and low near the lofty frigate, was a vessel that could only be USS Monitor , the Union Navy's own ironclad, which had arrived the previous evening after a perilous voyage from New York. Though her crew was exhausted and their ship untested, the Monitor was also preparing for action.
Undeterred, Virginia steamed out into Hampton Roads. Monitor positioned herself to protect the immobile Minnesota , and a general battle began. Both ships hammered away at each other with heavy cannon, and tried to run down and hopefully disable the other, but their iron-armored sides prevented vital damage. Virginia 's smokestack was shot away, further reducing her already modest mobility, and Monitor 's technological teething troubles hindered the effectiveness of her two eleven-inch guns, the Navy's most powerful weapons. Ammunition supply problems required her to temporarily pull away into shallower water, where the deep-drafted Virginia could not follow, but she always covered the Minnesota .
Soon after noon, CSS Virginia gunners concentrated their fire on USS Monitor 's pilothouse, a small iron blockhouse near her bow. A shell hit there blinded Lieutenant John L. Worden , the Union ship's Commanding Officer, forcing another withdrawal until he could be relieved at the conn. By the time she was ready to return to the fight, Virginia had turned away toward Norfolk.
The first battle between ironclad warships had ended in stalemate, a situation that lasted until Virginia 's self-destruction two months later. However, the outcome of combat between armored equals, compared with the previous day's terrible mis-match, symbolized the triumph of industrial age warfare. The value of existing ships of the line and frigates was heavily discounted in popular and professional opinion. Ironclad construction programs, already underway in America and Europe, accelerated. The resulting armored warship competition would continue into the 1940s, some eight decades in the future.
Kindle Available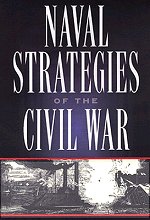 Naval Strategies of the Civil War: Confederate Innovations and Federal Opportunism
Compare and contrast the strategies of the Southern Secretary of the Navy, Mallory, against his rival in the North, Welles. Mallory used technological innovation and the skill of individuals to bolster the South's seapower against the Union Navy's superior numbers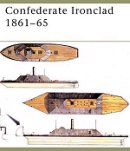 Confederate Ironclad 1861-65
Every aspect of Confederate ironclads is covered: design, construction, armor, armament, life on board, strategy, tactics, and actual combat actions.