CSS McRae
McRae, often erroneously identified by Union leaders as Miramon or General Miramon, was the former bark-rigged pirate ship Marques de la Habana which had been captured by USS Saratoga in March 1860. She was purchased by the Confederate States at New Orleans on 17 March 1861 and fitted out as CSS McRae. She was placed under command of Lt. T. B. Huger, CSN, and assigned to the fleet under Flag Officer G. N. Rollins, CSN, entrusted with the defense of the lower Mississippi River. Part of this time, as in her last battle, she was Rollins' flagship.
McRae gave protection to blockade runners slipping in and out of the Mississippi and Mobile Bay. She gave a good account of herself in a spirited engagement with ships of the Federal blockading fleet at the Head of the Mississippi River Passes on 12 October 1861. Her last fight was a gallant defense of Forts Jackson and St. Philip on 24 April 1862. In this engagement the conduct of her officers and crew was reported "rarely surpassed in the annals of naval warfare." With their ship cut to ribbons they fought on and would not surrender in an unequal contest which was conducted simultaneously against several Union warships and which left most of her crew dead or injured on her deck.
Though severely damaged, McRae came up river to New Orleans under a flag-of-truce on the evening of 27 April 1862, landing Confederate wounded from the forts below. There she was left to her fate and was found the following morning by Union forces sunk alongside the city wharf.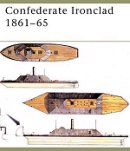 Confederate Ironclad 1861-65
Every aspect of Confederate ironclads is covered.