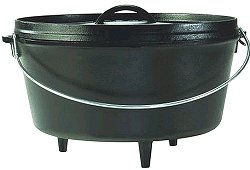 Lodge Camp Dutch Oven
The legs are for ease of use in campfires. Flanged lid to place coals on top of oven. Great for stews, chilli, roasts complete recipes for everything including old-fashioned bread. A must for reenactors villages.

Fruit Cake Recipe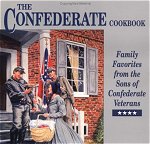 The Confederate Cookbook: Family Favorites from the Sons of Confederate Veterans
340 of Dixie's finest recipes courtesy of contemporary Confederate kitchens from Florida to Alaska. Here you'll find the delicious, traditional dishes that evoke the flavour of the Old South, as well as savoury regional favourites from all over the country. Fascinating historic anecdotes and previously unpublished, nostalgic sepia-toned images of identified Confederate soldiers are here for maximum visual appeal, along with easy-to-use instructions for making memorable dishes
When you make any kind of soup, particularly portable, vermicelli or brown gravy soup or any other that has herbs or roots in it,
always observe to lay the meat in the bottom of your pan with a good lump of butter
. Cut the herbs and roots into small pieces and lay them over the meat; cover it close and set it over a very slow fire: it will draw all the virtue out of the roots and herbs, turn it to a good gravy and give the soup a very different flavor than if you first put it in water. When your gravy is almost dried up, fill the pan with water; when it begins to boil, take off the fat and follow the directions of your recipe for whatever sort of soup you re making.
Soup Meat
To make the soup very good, the meat (of which there should be a large proportion, rather more than a pound to a quart of water) must remain in till it drops entirely from the bones and is boiled to rags. But none of these fragments and shreds should be found in the tureen when the soup is sent to table; they should all be kept at the bottom of the pot, pressing down the ladle hard upon them when you are dipping out the soup. If any are seen in the soup after it is taken up, let them be carefully removed with a spoon. To send the soup to table with bits of bone and shreds of meat in it is a slovenly, disgusting, and vulgar practice, and should be strictly forbidden, as some indifferent cooks will do so to save themselves the trouble of removing it. A mass of shreds left at the bottom of the tureen absorbs so much of the liquid as to diminish the quantity of the soup; and if eaten, is very unwholesome, all the nourishment being boiled out of it.
[Godey's - November, 1861]
Stock
The basis of all well-made soups is composed of what English cooks call "stock" or broth made from all sorts of meat, bones and the remains of poultry or game; all of which may be put together and stewed down in the "stock-pot," the contents of which are by the French termed Consommé. Then add a tablespoonful and a half of curry powder, and mix it up well. Now cut up the beef into pieces about an inch square; pour in from a quarter to a third of a pint of milk, and let it simmer for thirty minutes; then take it off and pace it in a dish with a little lemon-juice. While cooking, stir it constantly to prevent burning. Send it to the table with a wall of mashed potatoes or rice around it.
[There are several varieties of stock, such as "brown," "gravy" and " white". .]
[ Godey's - February, 1861]
Gumbo Soup
Cut up a chicken or any fowl as if to fry and break the bones; lay it in a pot with just enough butter to brown it a little; when browned, pour as much water to it as will make soup for four or five persons; add a thin slice of lean bacon, an onion cut fine and some parsley. Stew it gently five or six hours; about twenty minutes before it is to be served, make a thickening by mixing a heaping tablespoonful of sassfra leaves, pounded fine, in some of the soup and adding it to the rest of the soup; a little rice is an improvement. If the fowl is small, two will be required, but one large pullet
[a hen of the domestic chicken less than a year old]
is sufficient.
[ Godey's - April, 1861]
Curry Soup
Season two quarts of strong veal broth with two onions, a bunch of parsley, salt and pepper; strain it and have ready a chicken (or game bird) cut in joints and skinned; put it in the broth with a tablespoonful of curry powder; boil the chicken(s) till quite tender. A little before serving, add the juice of a lemon and a teacupful of boiling cream. Serve boiled rice to eat with this soup.
Always boil cream before putting it in soup or gravy.
Venison Soup
Take four pounds of freshly-killed venison, cut off from the bones, and one pound of ham in small slices. Add an onion, minched, and black pepper to your taste. Put only as much water as will cover it and stew it gently for an hour, keeping the pot closely covered. Skim it well and pour in a quart of boiling water. Add a head of celery cut small
(can substitute with celery seed)
and three blades of mace
[an East Indian spice: an aromatic spice consisting of the dried external fibrous covering of a nutmeg].
Boil it gently two hours and a half; then put in a quarter of a pound of butter, cut small and rolled in flour, and half a pint of port or Madeira. Let it boil a quarter of an hour longer and send it to the table with the meat in it.
[Godey's - March, 1861]

Rabbit Soup
Begin this soup six hours before dinner. Cut up three large, but young and tender rabbits, or four small ones (scoring the backs), and dredge them with flour. Slice six mild onions and season them with half a grated nutmeg, or more, if you like it. Put some fresh butter into a hot frying pan
you may substitute for the butter some cold roast veal gravy that has been carefully cleared from the fat
, place it over the fire, and when it boils, put in the rabbits and onions and fry them of a light brown. Then transfer the whole to a soup pot; season it with a very small teaspoonful of sweet marjoram leaves stripped from the stalks, and four or five blades of mace, adding three large carrots in slices. Pour on, slowly, four quarts of hot water from a kettle already boiling hard. Cover the soup pot, and let it simmer slowly, skimming it well, till the meat of the rabbits is reduced to shreds and drops from the bones, which will not be in less than five hours, if boiled as gently as it ought. When quite done, strain the soup into a tureen. Have ready the grated yolks of six hard boiled eggs, and stir them into the soup immediately after it is strained, and while it is very hot. Add, also, some bread cut into dice or small squares, and fried brown in fresh butter. Or substitute for the fried bread buttered toast, with all the crust removed, and cut into very small bits or mouthfuls.
[Godey's - November, 1861]