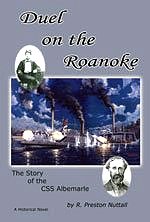 Duel on the Roanoke - The True Story of the CSS Albemarle
A 158-foot Confederate ironclad ship built in a cornfield 90 miles up North Carolina's Roanoke River, under the direction of an 18-year-old boy, and the deadly cat-and-mouse game between the two opposing captains.
USS and CSS Navy Ships and Battles
American Civil War
Kindle Available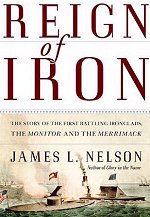 Reign of Iron: The Story of the First Battling Ironclads, the Monitor and the Merrimack
The first ironclad ships to fight each other, the Monitor and the Virginia (Merrimack), were the unique products of American design genius
Naval Battles
---
Engraving published in "Harper's Weekly", July-December 1861 volume.
It depicts ten of the "90-Day Gunboats" constructed for the U.S. Navy in 1861-62.
Ships, as identified below the image bottom, are (from left, all USS): Chippewa , Sciota , Itasca , Winona , Huron , Ottawa , Pembina , Seneca , Unadilla and Sagamore


Battle of Kearsage
and Alabama, 1864
Fine-Art Print
18" x 24"

Bombardment of Fort Sumter
Fine-Art Print
24" x 18"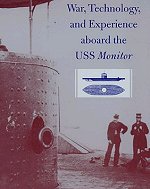 War, Technology, and Experience aboard the USS Monitor
The experience of the men aboard the Monitor and their reactions to the thrills and dangers that accompanied the new machine. The invention surrounded men with iron and threatened their heroism, their self-image as warriors, even their lives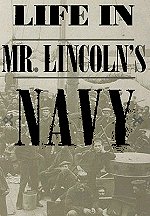 Life in Mr. Lincoln's Navy
A tantalizing glimpse into the hardships endured by the naval leadership to build and recruit a fighting force. The seaman endured periods of boredom, punctuated by happy social times and terrifying bouts of battle horror
Confederate Phoenix: The CSS Virginia
The CSS Virginia of the Confederate States Navy destroyed two of the most formidable warships in the U.S. Navy. Suddenly, with this event, every wooden warship in every navy in the world became totally obsolete
"Merchant Steamers Converted into Gun-boats."
Engraving published in "Harper's Weekly", July-December 1861 volume.
It depicts thirteen merchant steamships acquired by the U.S. Navy between April and August 1861 and subsequently converted into warships, plus the steamer Nashville (far left), which became a Confederate cruiser.
U.S. Navy ships, as identified below the image bottom, are (from left to right: Alabama , Quaker City , Santiago de Cuba (listed as "St. Jago de Cuba", Mount Vernon , Massachusetts , South Carolina , Florida , De Soto , Augusta , James Adger , Monticello , Bienville and R.R. Cuyler .
Click to enlarge

Pontoon Boat on Wheels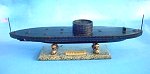 Monitor 21" Civil War Ship
Wood Model Fully Assembled
Dimensions 21" Long x 5" Wide x 3" High

Meticulously painted to the actual Monitor

Museum quality model. Fully assembled and ready to display.

The model rests perfectly on a polished marble base and 4 arched dolphins

Built with rare, high quality rosewood.
Sources:
U.S. National Park Service
U.S. Library of Congress
US Naval Archives


More To Explore