USS General Lyon
A 390-ton side-wheel river steamer, was built in 1860 at New Albany, Indiana, as the civilian ship
De Soto
. After serving as the Confederate gunboat
De Soto
in 1861-62, she was captured by Federal forces at Island Number Ten on 7 April 1862. The U.S. Army employed her as a transport until the U.S. Navy acquired her in September 1862. Changing her name from
De Soto
to
General Lyon
in October 1862, the Navy's Mississippi Squadron used her as a ordnance, stores and dispatch vessel during the remainder of the Civil War.
General Lyon
was decommissioned and sold in August 1865. Renamed
Alabama
as a civilian steamer, she burned on 1 April 1867 at Grand View, Louisiana.
CSS De Soto (1861-1862)
De Soto , a 390-ton side-wheel river steamer, was built at New Albany, Indiana, in 1860. In 1862, Confederate forces employed her as a gunboat on the Mississippi River. She was captured by the United States at Island Number Ten on 7 April 1862. In October 1862, after briefly serving as a U.S. Army transport, she became USS General Lyon .
12 Pound Howitzer on upper deck of the USS General Lyon
Line engraving, based on a sketch by Alexander Simplot, published in "Harper's Weekly", 1862
depicting ships sunk by the Confederates off their fortifications at Island Number 10, circa 7 April 1862.
As identified on the engraving, the ships are (from left to right): Champion , Yazoo , Grampus , John Simonds , Red Rover , Prince , Admiral , Ohio Belle , De Soto , Kanawha Valley , Winchester and Mars . Most of these vessels, some of which were not sunk, were later employed by the Union forces.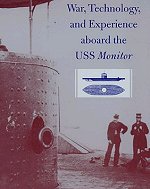 War, Technology, and Experience aboard the USS Monitor
The experience of the men aboard the Monitor and their reactions to the thrills and dangers that accompanied the new machine. The invention surrounded men with iron and threatened their heroism, their self-image as warriors, even their lives
Kindle Available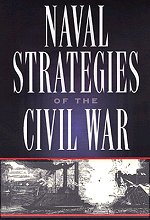 Naval Strategies of the Civil War: Confederate Innovations and Federal Opportunism
Compare and contrast the strategies of the Southern Secretary of the Navy, Mallory, against his rival in the North, Welles. Mallory used technological innovation and the skill of individuals to bolster the South's seapower against the Union Navy's superior numbers