CSS Albemarle
Civil War Confederate Ironclad Ram
CSS Albemarle (1864-1864)
CSS Albemarle , a relatively small ironclad ram, was built at Edwards Ferry, North Carolina. Commissioned in April 1864 under the command of Commander J.W. Cooke , CSN, she almost immediately went into action. On 19 April 1864, Albemarle attacked U.S. ships off Plymouth, N.C., sinking USS Southfield and driving away USS Miami and two other gunboats. With their waterborne communications severed, the Union forces were forced to surrender Plymouth to the Confederates.
Just over two weeks later, on 5 May, Albemarle , accompanied by the steamers Cotton Plant and Bombshell , steamed out into the North Carolina Sounds and attacked another U.S. Navy force, consisting of the "Double-ender" gunboats Sassacus , Wyalusing and Mattabesett , converted ferryboat Commodore Hull and small gunboat Ceres . Though Sassacus made a valiant attempt to sink the Albemarle by ramming, she was badly damaged in return. The Confederate ironclad was but lightly damaged in the engagement, which threatened the entire Union position on North Carolina's internal waters.
Desperate circumstances yield desperate responses, and on the night of 27-28 October 1864, Lieutenant William B. Cushing , USN, took the torpedo boat Picket Boat Number One upriver to Plymouth and bravely attacked Albemarle at her berth, sinking her with a spar torpedo. Following the Union recapture of the town, Albemarle was refloated. Taken to the Norfolk Navy Yard in April 1865, she remained there until sold in October 1867.
19th Century photographic reproduction of an artwork

CSS Albemarle at the Norfolk Navy Yard, Virginia, after salvage, circa 1865.
Two ladies are standing on her deck, near a section of displaced casemate armor.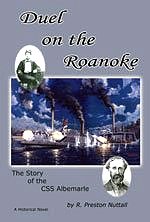 Duel on the Roanoke - The True Story of the CSS Albemarle
A 158-foot Confederate ironclad ship built in a cornfield 90 miles up North Carolina's Roanoke River, under the direction of an 18-year-old boy, and the deadly cat-and-mouse game between the two opposing captains.
Kindle Available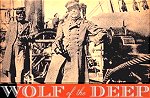 Wolf of the Deep: Raphael Semmes and the Notorious Confederate Raider CSS Alabama
In July 1862, the Confederate captain Raphael Semmes received orders to report to Liverpool, where he would take command of a secret new British-built steam warship.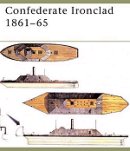 Confederate Ironclad 1861-65
Every aspect of Confederate ironclads is covered: design, construction, armor, armament, life on board, strategy, tactics, and actual combat actions.

Ironclad of the Roanoke
Gilbert Elliott's Albemarle
The story of a Confederate Ironcald that was a powerful force until sunk by a Union Torpedo Boat after its brief stormy life. Ironic in the fact it was built in a Cornfield. Confederate Ingenunity at it finest!

Ironclads and Big Guns of the Confederacy : The Journal and Letters of John M. Brooke
Information about the Confederate Navy's effort to supply its fledgling forces, the wartime diaries and letters of John M. Brooke tell the neglected story of the Confederate naval ordnance office, its innovations, and its strategic vision.
Kindle Available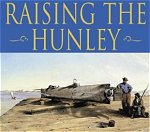 Raising the Hunley: The Remarkable History and Recovery of the Lost Confederate Submarine
For more than a century the fate of the
Hunley
remained one of the great unsolved mysteries of the Civil War. Then, on August 8, 2000, with thousands of spectators crowding Charleston Harbor, the
Hunley
was raised from the bottom of the sea and towed ashore.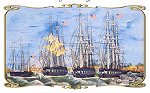 The Civil War on Hatteras Island North Carolina
New light on the experiences of Civil War soldiers stationed on the Outer Banks. It follows the crucial maritime battles along the Outer Banks and the famous Burnsides Expedition. Aa fascinating history of how one of America's most treasured islands played a significant part in the Civil War
Halftone reproduction of a photograph taken after the ship was salvaged, 1865

Engraving published in "Harper's Weekly", May 1864, depicting CSS Albemarle driving off USS Miami , after ramming and sinking USS Southfield (foreground), 19 April 1864.

U.S.S. Sassacus and C.S.S. Albemarle
19th Century photograph of an artwork, depicting USS Sassacus ramming the Confederate ironclad, during Albemarle 's engagement with Federal gunboats on Albemarle Sound, North Carolina, 5 May 1864.
Sassacus was hit in a boiler and disabled during this action. Albemarle was not significantly damaged by the ramming or by gunfire.

Cushings Daring and Successful Exploit
Artwork by Bacon, published in "Deeds of Valor"
It depicts the attack on CSS Albemarle by a torpedo launch commanded by Lieutenant William B. Cushing, USN, at Plymouth, North Carolina, 27 October 1864.
The torpedo boat is shown crashing over Albemarle 's protective log boom to deliver its torpedo against the ironclad's hull.

Sunk off Plymouth, North Carolina, circa 1865. She had been sunk on 27-28 October 1864 by a torpedo boat.
One section of her armored casemate has been displaced.
Photographed by W.B. Rose for A.J. Smith of New Berne, NC.
Taken from the wharf at Plymouth, with the swamp and woods opposite the town in the background.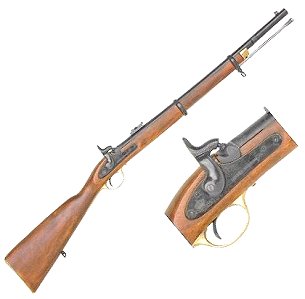 1860 Enfield Civil War Musketoon
This piece is a full-size non-firing reproduction of the rifle used in the Civil War. The body is made of European hardwood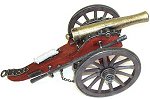 Civil War Cannon
Collectible Models and childrens playsets
Miniature Collectible Civil War Cannon12 pound Civil War field cannon replica weapon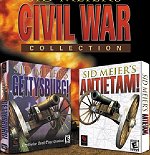 Sid Meier's Civil War Collection
Take command of either Confederate or Union troops and command them to attack from the trees, rally around the general, or do any number of other realistic military actions.
History Channel
Civil War A Nation Divided
Rally the troops and organize a counterattack -- Your strategic decision and talent as a commander will decide if the Union is preserved or if Dixie wins its independence
Sources:
U.S. National Park Service
U.S. Library of Congress
US Naval Archives


Enter the keywords you are looking for and the site will be searched and all occurrences of your request will be displayed. You can also enter a date format, April 19,1862 or September 1864.
More To Explore