Park Events
Gettysburg National Military Park sponsors Civil War living history demonstrations, battle anniversary guided walks, musical programs, and much more throughout the year. Check the schedule below for dates, subjects, and times. Most events are free of charge unless noted. Inquire at the park Visitor Center for further event information and check back for updates as they are made available.
Many of the Hotels and Motels, Bed and Breakfast Lodging and Camping Facilities ready to assits in your reenactment trip or Civil War history buffs wanting to walk the battlefield will find walking tours guided bus tours and private guide information at the Gettysburg Lodging establishments.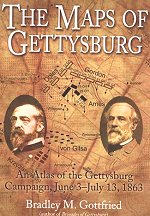 The Maps of Gettysburg:
The Gettysburg Campaign, June 3 - July 13, 1863
The Maps of Gettysburg plows new ground in the study of the campaign by breaking down the entire campaign in 140 detailed original maps.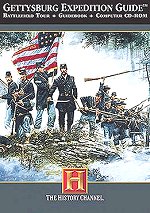 Gettysburg Expedition Guide

The CD-ROM is packed with battle map animations, history movies, virtual tours and quiz games. The guidebook and audio tour take you on a tour of the battlefield complete with battle maps




The Herr Tavern and Publick House was built in 1815 by Thomas Sweeney. Sweeney built his tavern here to capitalize on the route that led west. This is now US Route 30. It is possible that while Sweeney owned the tavern, Davey Lewis hid out there. Davey Lewis was a famous bank robber in the early 1800's. There are stories of "Lewis the Robber" using the tavern as a base of operations for counterfeiting. If this was the Davey Lewis of legend, he had to have been here when Thomas Sweeney owned the building, because Davey Lewis died in prison in Bellefonte in 1820. Bank Robbers aside, Mr. Sweeney's prosperity would not last long.


Current Gettysburg PA Weather

Comfort Inn - Gettysburg
871 York Road
Gettysburg, PA 17325
Heated indoor swimming pool Pet-friendly hotel - click & read - allows pets up to 25 pounds - pets allowed in smoking rooms only
---
Holiday Inn Battlefield - Gettysburg -
516 Baltimore Street,
Gettysburg, PA 17325
Rated high by guests Swimming pool - restaurant - lounge Pet-friendly hotel - click & read Guest review: Close to everything, good price - no hassles - Jan 2006 Guest review: A good value - walk to good restaurants
---
Enjoy romance & comfort in this 1815 country inn. Used as the first Confederate hospital during the "Battle of Gettysburg" . Herr Tavern & Publick House is where history meets hospitality. Gettysburg PA 's finest Bed and Breakfast!

"The world will little note, nor long remember, what we say here, but it can never forget what they did here." These words from Abraham Lincoln's famous address were delivered in Gettysburg to mark the dedication of its national cemetery in November 1863. Four months earlier, from July 1 to 3, 51,000 Americans were killed, wounded, or counted as missing in the bloodiest battle of the Civil War. The events that took place in Gettysburg during those few days marked the turning point in the war. Although the struggle raged on for almost two more years, the Confederate forces never recovered from their losses.

At the national military park and at 20 museums in Gettysburg, you can recapture the power of those momentous days. You can see battlefields such as Little Round Top, Big Round Top, and Devil's Den. A $39 million, 15-acre visitor center and museum is being built at Gettysburg National Military Park on the outskirts of the battlefield. The building will allow the park to preserve and display its extensive collection of Civil War artifacts. Also under way is a 20-year, $63 million restoration of the battlefield to its 1863 condition. Source: NY Times